Safety information for contractors and excavators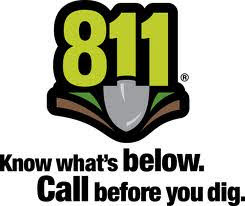 North Dakota Century Code 49-23 requires anyone who engages in any type of excavation, (definition 49-23-01.7. "Excavation" means any operation in which earth, rock, or other materials in or below the ground is moved or otherwise displaced by means of hand or power tools, power equipment, or explosives and includes grading, trenching, digging, ditching, drilling, augering, tunneling, boring, scraping, and cable or pipe plowing and driving) with certain exemptions, anywhere in North Dakota to provide notice of at least 48 hours in advance (excluding weekends and holidays) to North Dakota One Call.
North Dakota One Call (NDOC) is the statewide One Call notification system established to inform all North Dakota underground facility operators of intended excavation.